Renewable Heat Incentive
Renewable Heat Incentive
The government has launched the world's first long term financial support programme for renewable heat; the RHI. The Renewable Heat Incentive is a payment made to the owner on a quarterly bases for the renewable heat that is generated from there system.
There is currently two parts to the RHI:
Phase 1: RHI for "Non Domestic" installations which are currently available to industry, businesses and public sector organisations.
Phase 2: RHI for "Domestic" installations was launched in July 2014 and is available for the home owner.
The RHI is intended to encourage the installation of renewable equipment such as renewable heat pumps, biomass boilers and solar thermal panels to aim to reduce the amount of carbon emissions.
Eligibility
The following heat technologies are eligible for the RHI:
Biomass Boilers
CHP - Combined Heat & Power
Biogas Combustion (Only up to 200kWth)
Deep Geothermal
Ground Source Heat Pumps (Heating Water)
Energy from biomass proportion of Municipal Solid Waste
Solar Thermal (Only up to 200kWth)
Water Source Heat Pumps
The biomass boiler systems that Edge Renewables install will all be suited for the RHI scheme. It is important to invest in top quality equipment as the RHI is for a period of 20 years and any boiler replacement would mean re-application to the scheme which may or may not be available.
Edge Renewables will create and manage the RHI application for all customers. We were one of the first companies to gain approval for a biomass boiler system in the United Kingdom and have gained approval for over 450 boiler systems. The expertise within the team that deal with RHI will mean that you never forget to miss your meter reading.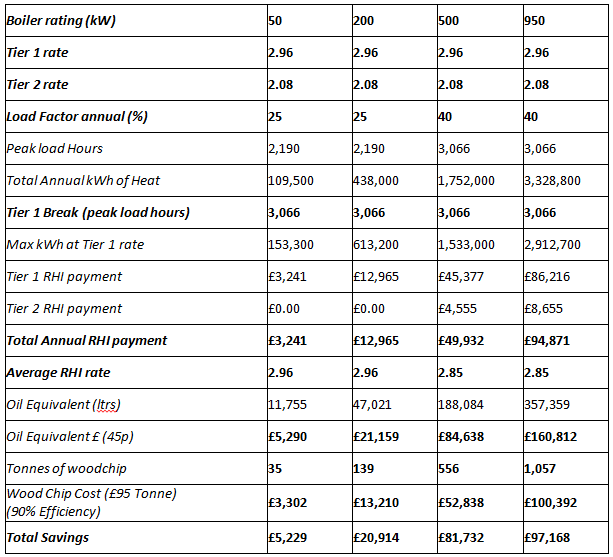 Payments as an example
500kW x 3,066 = 1,533,000 kWh at Tier 1 tariff (2.96p) =£45,377
500kW x 438 = 219,000 kWh at Tier 2 tariff (2.08p) = £4,555
Total Payments per year = £49,932
Annual Savings (Oil Cost-Woodchip Cost) = £31,800
Total Savings = £81,732