Feed In Tariffs
Feed-in Tariffs
Feed in Tariffs were introduced back in April 2010 to aim to increase the amount of renewable energy in the UK. FIT are payments made to energy users for the amount of renewable electricity that they generate on a quarterly bases.
Eligibility
Renewable systems that have a capacity up to five megawatts qualify for the FIT scheme. Five megawatts of electricity is a vast amount, therefore near enough everyone is eligible for the FIT scheme from schools to farmers to supermarkets.
Typically the owner of the eligible installation is the person who receives the financial reward although if they choose to they can have a nominated recipient. It is up to the owner to decide whether they receive the FIT or choose someone else to receive the incentive.
The following technologies will meet the eligibility for the FIT scheme:
Solar Electricity
Anaerobic Digesters
Wind Turbines
Hydro Electricity
Benefits
There are three main benefits that the FIT scheme will provide:
Generation Tariff
Export Tariff
Savings
Generation Tariff
Your energy supplier (e.g. – npower, British Gas, Scottish Power) will pay you a set amount for every kWh of electricity that your renewable technology creates. The price that your energy supplier pays you per kWh is guaranteed for a period of 20 years and is index linked.
Export Tariff
If you do not use all of the electricity that your renewable technology produces there is then the opportunity to export the electricity back in to the electricity grid. For every kWh that gets exported back in to the grid the owner will receive 4.85p per kWh.
Savings
There will be a very noticeable difference in the energy bills that you receive, the electricity that is being created from the renewable technology will be powering your household appliances therefore you will not need to buy as much electricity from your energy supplier. This is very dependent on the amount of electricity that is used on site.
Payments
The generation tariff that is assigned is dependent on the type of energy and the size of the system.


BELOW IS THE TARIFF TABLE FOR SOLAR PV: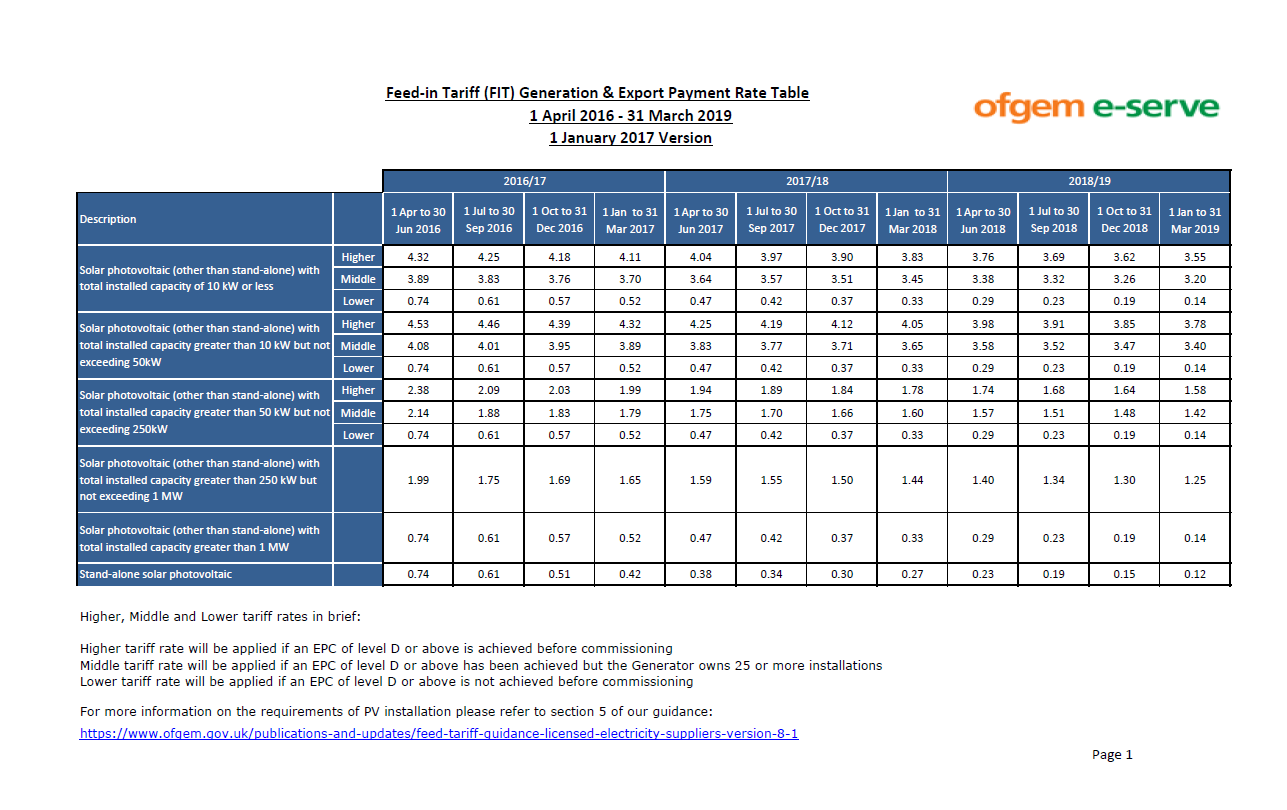 Edge Renewables offer installation of Solar PV to both domestic and commercial customers. We are able to offer both roof and ground mounted installations and a site visit can be made to work out the best solution for the customer.
We also create and manage your Feed in Tariff account to ensure that you get your first payment as soon as possible.